Who else but the homicidal Chinese would so something like this! They taped up the pillars of a building…
Excerpt
A sub-district office of Jinan city in Shandong Province said that using tape to fix cracked concrete columns on a residential building – which was exposed by Weibo users – was just a temporary measure.
The 5-storey residence, located on Lishan East Road of the city, has a history of more than 30 years. The surface, consisting of cement columns, has many cracks, the biggest of which, you can put a finger in, according to a Xinhua report.
Thirteen 'wounds' on the building received the unorthodox treatment.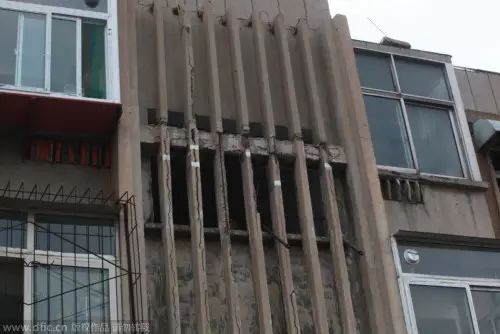 "Our staff fixed the cracks with tape in case winds or rains make cement pieces fall," said Wang Wei, deputy director of the Jianzhuxincun sub-district office.
"The problem will be resolved by the property bureau and property owner jointly," he added.
According to Wang, the owner of the building, Jinan Construction Group, was off duty on Sunday when they received reports of a safety risk. The use of adhesive tape seemed like a novel solution.
Netizens on social media were divided. Some said it was not a big deal, while some were very concerned with potential safety issues.

"How on Earth did they come up with such an idea to tape the building?! Most frightening of all is that they really carried it out!" @chuqiaozhiren

"The use of the word 'pillar' is quite misleading. These columns are merely for decoration and do not bear any load to the building. The authorities should simply knock them down." @zhizhuazhu6ge

"These are decorative columns that have no influence on structural safety. However, by the poor quality of these columns, we can infer the overall trait. The attention should not be paid to these decorative columns, but the general quality of the whole building."